This article, Zari, is a Role-Play article.
Zari
is the
Namekian
 creator of the Silver Star Dragon Balls.
About
He also created He is the good half of Zeri. Legends say he also created the very first set of Dragon Balls. His Potara Fusion with Zeri is .
He was able to calm SS' Dragon Mode.
Techniques
Special Beam Cannon
Namekian Soul Cannon
Dragon Fist
History
Zari appears in the prologue and is possibly dead, possibly...but if he were dead...why isn't dead?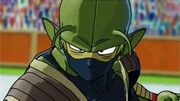 Ad blocker interference detected!
Wikia is a free-to-use site that makes money from advertising. We have a modified experience for viewers using ad blockers

Wikia is not accessible if you've made further modifications. Remove the custom ad blocker rule(s) and the page will load as expected.