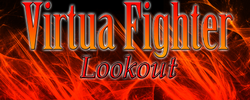 Virtua Fighter Lookout
is a random version of Virtua Fighter featuring members of the Lookout as the characters in the game. They use no ki and are just peak humans with the fighting styles of their favourite characters so as to make the game balance in competitive setting. VFL can be played either casually or competatively and offers a variety of different game modes the player can experience in all of Single player, 2 player, of full blown online gameplay. In addittion, Each character in the game is a lookout-version of the original characters in the game.
List of Characters
Akira Yuki - Vacant
Kage Maru - Mars
Jean Kujo - Vacant
Jacky Bryant - Kuzon
Sarah Bryant - Destiny
Brad Burns - Micheal Iron
Lion Rafale - Ian
Shun - Vacant
Lau Chan - Vacant
Pai Chan - Vacant
Eileen - Vacant
Vanessa Lewis - Vacant
Aoi Umenokoji - Vacant
Taka Arashi - Vacant
Jeffrey Mcwild - Vacant
Wolf Hawkfield - Vacant
El Blaze - Vacant
Goh Hinogami - Tenchi
Ad blocker interference detected!
Wikia is a free-to-use site that makes money from advertising. We have a modified experience for viewers using ad blockers

Wikia is not accessible if you've made further modifications. Remove the custom ad blocker rule(s) and the page will load as expected.