Supreme Ian
is Ian's most powerful form being equal to Supreme Zion,and holding enough power too make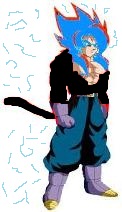 perfect in power. Ian has no care for anything in the universe in this form, except for his son, and his brother.
Appearance
He looks exactly like Ian SSSJ10 (As he is), it has constant lightning, giving telling most people, it is Supreme too all other Super Saiyan forms. It has gold fur and blue hair.
Power
This form is equal to Supreme Zion making it infinite in power.
Users
Ad blocker interference detected!
Wikia is a free-to-use site that makes money from advertising. We have a modified experience for viewers using ad blockers

Wikia is not accessible if you've made further modifications. Remove the custom ad blocker rule(s) and the page will load as expected.