This article, Super Saiyan God (Tanks' version), is a Role-Play article.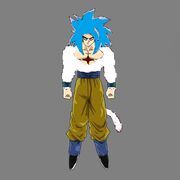 Overview
It is a form that takes all of the power from the Super Saiyan forms that its user has achieved and combines them into one power level and multiplies it by 9,000.It was found by Tanks
Appearance
In this for your fur turns white. Your hair turns blue with purple highlights. You gain a brownish red star on your chest and the highlights under your eyes are the same as Super Saiyan 4's.
How to achieve
Become a Super Saiyan Maximum and be pushed to near death and use the Maximum Negative destroyer and absorb all of the pure energy it contains.
Users
Tanks
Topazo
Ian
Kotaz
Leogian
Ad blocker interference detected!
Wikia is a free-to-use site that makes money from advertising. We have a modified experience for viewers using ad blockers

Wikia is not accessible if you've made further modifications. Remove the custom ad blocker rule(s) and the page will load as expected.