This article, Senbonzakuragakure, is a Role-Play article.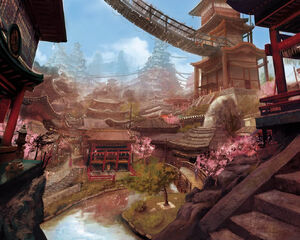 Senbonzakuragakure
(千桜に隠れの里, Literally Meaning: "Village Hidden by a Thousand Cherry Blossoms") is a hidden village in the mountain and hotspring areas of Earth.
Senbonzakuragakure isn't your regular village though. It is a village built on the sole purpose of training. The village itself is a training facility. Not a training facility where all you do is train but a training facility of paradise. Where you are getting stronger and living the life.
Founding
founded this village in the mountains where there were a lot of rivers, forest area, and hotsprings. He built and built using hundreds of sand clones. He has already got people inhabiting the village in one day.
Classes
Environment Advantages
Endurance
Focus and Meditation
Creativity
Stealth
Hesitation Control
Swordsmenship
Teachers
Environment Advantages, Endurance, Focus and Meditation, Creativity, Swordsmenship

Viragis: Stealth, Hesitation Control
Students
Michael - Rookie
- Rookie
Training Areas
Since the village is meant for training, everywhere is a training area except people's homes and restaurants.
Ranks
There are many ranks in Senbonzakuragakure. Each rank has certain privileges to items and techniques.
Rookie
Swordsman
Guard
Patrol Officer
Special Force
Death Specialist
Royal Guard
Captain
Uniform
Senbonzakuragakure's training uniform is a black kimono with a white and black trim that have blue and green stripes. The kimono is tied around with a lavender belt and is wore with black pants. Each rank wears the same attire except Captain. Captain's get a white jacket.
Items You Can Earn
Katana (Swordsmen)
Ancient Senbonzakura Armor (Death Specialist)
Legendary White Scarf (Royal Guard)
Captain Jacket (Captain)
Moves You Can Learn
Kamehameha: Fart Version (Rookie)
Explosive Wave (Guard)
Breakdance Beam (Swordsmen)
Super Explosive Wave (Special Force)
Dragon Fist (Death Specialist)
Dino Fist (Death Specialist)
Final Kamehameha (Captain)
Phoenix Fist (Captain)
Registration
If you want to register into this school leave a comment on this page linking your character and telling me a little about yourself. An example of telling me a little about yourself is: "Hi I am Bob and I am a guy from Satan City." That's all there is to it.
Ad blocker interference detected!
Wikia is a free-to-use site that makes money from advertising. We have a modified experience for viewers using ad blockers

Wikia is not accessible if you've made further modifications. Remove the custom ad blocker rule(s) and the page will load as expected.