This article, Sacaryias, is a Role-Play article.
This article, Sacaryias, is property of Powerful gohan.
Sacaryias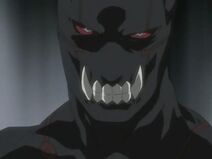 Name
Profile
Professional Status
Personal Status
Theme
[

v

 · 

t

 · 

e

]
Sacaryias is a member of an unknown race, he is pure evil and is incredibly powerful.
Appearance
Sacaryias is a tall, black-skinned being with jagged teeth; two of his teeth are pointed up. He has several red markings across his body and face with red eyes.
Personality
Sacaryias is impatient and aggresive, but sometimes he can be reasonable. He has a craving for killing people, with his agressiveness, he will kill anyone he doesn't like, and spare someone he likes.
Abilities
Sacaryias is highly brutal, capable of effortlessly breaking . He can also discharge a black slime at people which will turn the victim to him. He can also pierce an opponent's stomach with his two razor sharp teeth.
Techniques
Flight
Possibility Cannon
Kiai
Explosive Wave
Super Explosive Wave
Transformations
True Form
Gallery
Ad blocker interference detected!
Wikia is a free-to-use site that makes money from advertising. We have a modified experience for viewers using ad blockers

Wikia is not accessible if you've made further modifications. Remove the custom ad blocker rule(s) and the page will load as expected.