This article, Pika, is a Role-Play article.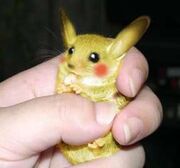 Pika is a small Pichu who was adopted by .
SS plans to train him but hes so small...quite smaller than regular Pichu.
SS believes hes got incredible power...but no one else believes him..
Moves
Thundershock
Electro Ball
Thunder Fang
Fusion Bolt (apparently, makes SS believe he has great power)
Scratch
History
SS first meets Pika in my Fan Fic.
Ad blocker interference detected!
Wikia is a free-to-use site that makes money from advertising. We have a modified experience for viewers using ad blockers

Wikia is not accessible if you've made further modifications. Remove the custom ad blocker rule(s) and the page will load as expected.