This article, Phantom 8, is a Role-Play article.
This article, Phantom 8, is a Role-Play article.
The Phantom 8 is an eight-man team that seeks power, it was founded by Vegitax. Some of them reside in the Phantom Hideout.

History
This team was formed hardly after Bandra was reincarnated to Menos, ever since they started, they gained more power, only two people know of the Phantom 8, Menos saw them but did not face them, Menos later confronted Mars in the desert and told him about them. And then the Phantom 8 spread around the world, and Menos also eventually joined the Phantom 8.
Members
In Strength
Vegitax (Leader/Founder)
Menos
Armal (Vegitax Possessed) (Former)
Unknown 1
Unknown 2
Unknown 3
Unknown 4
Unknown 5
In Speed
Menos
Vegitax
Unknown 5
Unknown 1
Armal (Vegitax Possessed) (Former)
Unknown 3
Unknown 2
Unknown 4
Allied Teams
The Phantom 8 are connected to , they call them for things like favours, tasks, backup etc. But not very often, Menos says they are not much use though, as does Vegitax, Armal was the one who came up with the idea of connecting the two teams together.
Symbol
The Phantom 8's symbol is sort of skull shaped, with an open mouth, it has the colors black,orange and red on it, the orange are the eyes, the red is a gem-like object on the forehead and the black is the rest of the skull with flickering flames. Each member gets this symbol on their robes.
The Four Swords of Phantom
The Four Swords of Phantom are the swords wielded by 4 members of the Phantom 8.
- Choigurugime, the sword of the "Cold Flame". Wielded by Vegitax.
Disbanded
The team was disbanded for unknown reasons, now Zetsiru are roaming the world. Although Vegitax keeps Choigurugime in his hands.
Zetsiru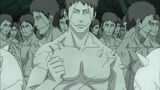 Zetsiru, these white/black beings are neutral people created from the cells of many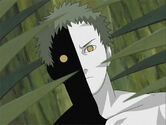 powerful warriors. They have abilities to morph into the exact appearance of a person by absorbing their energy, they can also merge with the surroundings around them. There are two kinds of Zetsiru, the white ones being more neutral, and the black ones seeming to be more of a human. All Zetsiru have a venus-flytrap extension which are the cracks on their legs.
Gallery
Ad blocker interference detected!
Wikia is a free-to-use site that makes money from advertising. We have a modified experience for viewers using ad blockers

Wikia is not accessible if you've made further modifications. Remove the custom ad blocker rule(s) and the page will load as expected.