This article, Macrotors, is a Role-Play article.
Macrotors are a Humanoid Dragon race thought to be created for war.

Tribes
Alora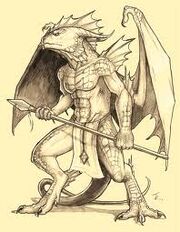 Alorans are the smartest of the Macrotors. They were the first Macrotors to wear clothes, and the first to make weapons.
Cellab
Cellabs the most aggressive and the first to wear armour and to use shields.
Seros
Seroses were the first tribe of Macrotors and do not wear clothes at all.
Voris
Voris is the most dragon like tribe and do not wear clothes.
Ad blocker interference detected!
Wikia is a free-to-use site that makes money from advertising. We have a modified experience for viewers using ad blockers

Wikia is not accessible if you've made further modifications. Remove the custom ad blocker rule(s) and the page will load as expected.