This article, Lookout School of Martial Arts, is a Role-Play article.
This article, Lookout School of Martial Arts, is a Role-Play article.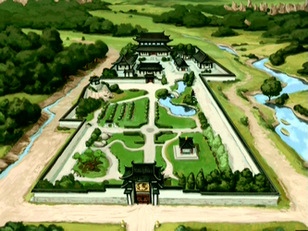 The Official Lookout School of Martial Arts is a mixed martial arts dojo school on Earth that trains in several types of advanced martial arts. It was founded and is based on the teachings of the Lookout Crew.
Overview
The school was founded in May 1040 by Ultimate Zion, who prior founded the Lookout Crew, a modern variation of the Z-Fighters. At first, the school was ran and administrated by members of the Lookout Crew, mainly Sensei Zion who was looked at as the "boss" or "grandmaster sensei". Eventually, every member of the Lookout Crew had formed their own versions of martial arts, styles and training. Every member is eligible to open their own wing on the school and teach their version of martial arts. It can be either beginners, to full-on death style. Your choice. The school also uses weapons such as sticks, nunchuks, and swords in training. It can get intense. There are tests after a quarter (about 4 quarters per gi (below)).
Sessions are held from 2:00PM to 3:30PM (1 hour & half) on Mondays, Wednesdays, and Fridays (Wednesdays are optional open-door training days). Membership pricing costs 5,000 Zeni (an extra independent session costs 500Z extra).
A statue of Goku stands in the center of the campus. There are several training areas and mats scattered around the campus (which is in a forest patch), and dojo buildings.
Ranks
Much like Karate, there are ranks like belts, only in the LSMA, they use Gis. There is a Beginners white Gi and 9 colored Gis ending with Orange/Blue, in honor of Goku. There is also the Honorary Gi, which is a special golden gi robe for grandmasters whom have completed several types of martial arts and are respected, and are teachers of an art. Generally, you earn these after 60 to 80 years of experience. These apply to any dojo or style.
Earned Gis:
Whites (Beginners; earn in 1 year)
Yellow (earn in 2 year)
Green (earn in 2 1/2 year)
Red (earn in 4 year)
Blue (earn in 5 1/2 year)
Purple (earn in 6 year)
Brown (earn in 7 year)
Black (Masters; earn in 8 year)
Orange/Blue (Grandmasters; earn in 10 years; optional)
1st-10th Degree O/B Gi (earn in 12-40 years)
Honarary Gi (Elder; earn in 60-80 years)
Styles
* Classes on Chakra and Ki control are included as special classes. Even if you never formed a ki blast before or used jutsu, by the time you have completed all 3 full-year classes on them, you will be a trained master in both control, usage, and structure.

Basic:
Karate
Tae Kwon Do
Aikido
Jeet Kune Do
Judo
Kung Fu (Shaolin)
Muay Thai
MMA
Wing Chun
Chakra/Spirituality/Jutsu* I, II & III
Ki* I, II, & III
Senseis & Students (former)
Ad blocker interference detected!
Wikia is a free-to-use site that makes money from advertising. We have a modified experience for viewers using ad blockers

Wikia is not accessible if you've made further modifications. Remove the custom ad blocker rule(s) and the page will load as expected.