This article, Lookout Ceremonial Dragon Ball, is property of TheGreatKuzon!.
This page or character is no longer in official use. Some of its contents may be currently illegitimate or wrong.
This article, Lookout Ceremonial Dragon Ball, is one of this wiki's original or special pages and we wish to preserve its state and nature.

---

~The Lookout Wiki (8 May 2012 - 24 July 2017)~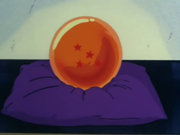 The
Lookout Ceremonial Dragon Ball
is the Dragon Ball used for official Lookout business. It is used in the
Administrative Inauguration of the Lookout
, when admins are being chosen, they are to place their hands on the Dragon ball while reciting the oath. When there are special ceremonies or so, the Dragon Ball is placed and hung as the like disco ball or so.
It is polished every week to keep it shiny.
Ad blocker interference detected!
Wikia is a free-to-use site that makes money from advertising. We have a modified experience for viewers using ad blockers

Wikia is not accessible if you've made further modifications. Remove the custom ad blocker rule(s) and the page will load as expected.