This article, KuzDonald's, is a Role-Play article.
This article, KuzDonald's, is property of TheGreatKuzon!.
This article, KuzDonald's, is a Role-Play article.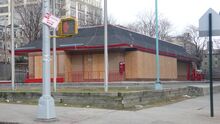 KuzDonald's is a Restaurant developed by as a way to make money to help people and himself.
About
The Resturant is a play off real life McDonalds. It is a Fast food restaurant (but a little healthier) of Supreme City. The restaurant was developed by Kuzon so he can make money but also sell tasty food now and then. It has been operational since Age 1040. When Kuzon died in 1086, his son KJ took over management and turned it into a very popular restaurant, especially for war soldiers during the Herulean War. The restaurant somehow survived for over 400 years with crappy managers and is active as of 1500, but run down.

If you wanna order something, ask in the Comments.
Times
Monday-Friday: 8:00 AM to 9:00 PM
Saturday and Sunday: 8:30 AM to 6:00 PM
Menu
Food
Kuzburger: Kuzon's homemade sandwich with Meat, Lettuce, and tomato. Lettuce, Bacon or cheese is optional. Includes his secret family ingredient... $2:00. SPECIAL.
Sandwich/Hamburger/Cheeseburger: Meat, White bread or sesame seed bun, and tomato. Cheese and onion are optional. $1:50
Dollar Meal: A meal of a Cheeseburger or Hamburger, a soft drink and a side. $1:00
Destructo Meal: A sharp meal that will cut right through your stomach! (Not literally -_-). It includes a small pizza with pepperoni, cheese and sausage, a drink and a hamburger. $1:95
Nachohameha: A tasty side of Blue Nachos and cheese! You can also get a regular nachos and cheese. It packs a powerful kick so eat well! $1:50
(Kuzon pick!) French fries and Saiyanuggets: French fries and Chicken Nuggets made to give Saiyan's or half saiyans an energy advance! $1:70
Drinks
Water: You should know what water is. Large-$1:50/Medium-$1:00/Small-$.50
Ki Shake: A shake with a great energy boost! A blue or green milkshake with a cherry on top and whip cream. $1:00
Rootbeer: In a Mug-$1:59. Small-$.50, Medium-$1:00, Large-$1:50
Soft Drinks/Pepsi, Coke, Diet Coke and Pepsi, Cherry Coke, Mountain Dew, Diet Mountain Dew, Dr. Pepper, Diet Dr. Pepper: Small: $.50/Medium: $1:00/Large: $1.50
Ad blocker interference detected!
Wikia is a free-to-use site that makes money from advertising. We have a modified experience for viewers using ad blockers

Wikia is not accessible if you've made further modifications. Remove the custom ad blocker rule(s) and the page will load as expected.