This article, Haruka Nakazora, is property of T.O.A.A..
Haruka Nakazora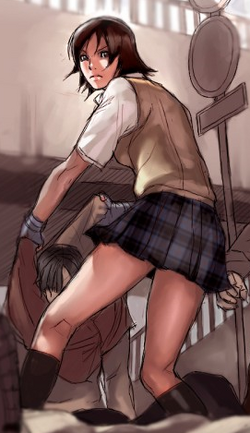 Name
Profile
Professional Status
Personal Status
Theme
[

v

 · 

t

 · 

e

]

Haruka Nakazora(はるか那珂ゾラ, Nakazora Haruka) is one of the more talented and outstanding students at The Saikyo School of martial arts, showing talent in latent ki control and being regarded as one of the most promising martial artists ever to practise the style.
Character Overview
Appearance
Personality
Biography
Power Level
Skills
Seikuuken
Seikuuken(空気制御, Lit. "Control of The Air Sphere") Haruka has become extremely talented in the usage of the special Saikyo-Style technique, Seikuuken. Through extended her arms and focusing her ki into her surroundings, she creates a perfect spherical barrier of ki in which no outside influences can permeate. This functions as a defensive technique, as everything within her arms reach becomes incapable of coming closer due to the fact her hands immediately intercept and push back enemy attacks due to the heightened state of awareness which one achieves via the usage of Seikuuken.
Transformations
Quotes
Behind The Scenes
Ad blocker interference detected!
Wikia is a free-to-use site that makes money from advertising. We have a modified experience for viewers using ad blockers

Wikia is not accessible if you've made further modifications. Remove the custom ad blocker rule(s) and the page will load as expected.