This article, Har, is a Role-Play article.
This article, Har, is property of TheGreatKuzon!.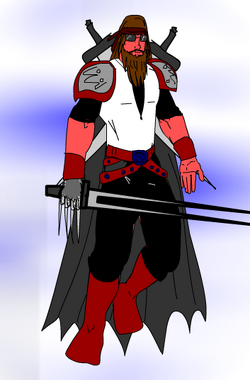 Har is one of Kuzon's friends he met in Other World in a match He is a powerful warrior that participates in lots of afterlife tournaments. He was killed by Super Cell originally, and later revived by Kuzon with the Dragon Balls to aid the Lookout Crew.
Har is very powerful, and wields three weapons: 2 swords on his back, and a special double sword, which can control fire and heat. When it comes to water or ice, though, Har is weak and immune.
Har is a large, grizzly man. He has a long brown beard, brown spiky hair, and redish skin. He has a black jumpsuit, and red boots and armor. He has two swords on his back, and a large double sword. 
Ad blocker interference detected!
Wikia is a free-to-use site that makes money from advertising. We have a modified experience for viewers using ad blockers

Wikia is not accessible if you've made further modifications. Remove the custom ad blocker rule(s) and the page will load as expected.