This article, Baby Broly, is a Role-Play article.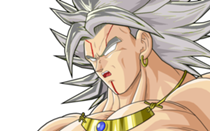 Baby Broly appears in Dragon Ball Dreams.
History
In Dragon Ball Dreams, Broly is brought back from Hfil, then was possessed by a single cell of Adult Baby.This made Baby Broly.
Moves
Trivia
In Dragon Ball Dreams, Broly only reaches the 2nd form.
Broly was brought from To life while Baby was possesing him.
Ad blocker interference detected!
Wikia is a free-to-use site that makes money from advertising. We have a modified experience for viewers using ad blockers

Wikia is not accessible if you've made further modifications. Remove the custom ad blocker rule(s) and the page will load as expected.